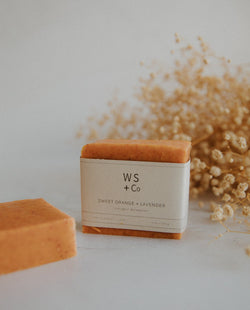 Sweet Orange + lavender
Wild Sage + Co's sweet orange and lavender soap offers indulgent relaxation, perfect for the chilly autumn months. It's wonderfully relaxing, and perfect for a long, hot bath. Suitable for all skin types, this soap contains sweet orange and lavender essential oils, which calm and soothe the senses.
In this soap, rapeseed oil is packed full of Vitamin E and K which help to smooth fine lines and reduce the signs of ageing. Often used in hair care treatments, its high vitamin and mineral content also make it great for tackling acne and blemishes. Coconut oil reduces inflammation and maintain skin's moisture. Sunflower oil is rich in Vitamin E and antioxidants, making it an effective oil to combat skin problems like acne and redness. Annatto seeds are full of antioxidants, helping to fight free radicals and keep skin young.
Wild sage + Co use the cold process method, a practice that is steeped in the age old tradition of soap making. Unlike commercial soaps, these bars are packed full of their natural glycerine. Their soaps are handcrafted in small batches, and are designed by their founder Julie, who uses a specific calculation to ensure that each soap bar is brimming to burst with skin-loving plant an nut oils. This process, known as 'super fatting', ensures that your skin is cleansed and moisturised, all at the same time. All of their soaps are 100% cruelty free and vegan.
Christmas 2023 shipping dates:
The best way to make sure your gifts arrive in time for Christmas is to book your parcel delivery as early as possible. 
- The last order date for Christmas 2023 is at 5 pm on December 20th
General informations: 
All deliveries are made by Royal Mail, UPS or DPD depending on the size & weight. All parcels are sent using a signed or tracked service. Please note that if you order more than one item, they may be shipped separately or together size & weight dependent.
Once payment is cleared we usually process parcels within 2 working days. We aim to deliver orders to the UK within 3-5 working days (excluding public holidays) and our store holidays. During busy times shipping can take a little longer. 
Our standard shipping starts from £4.95.
For full details, multiple item orders and exchanges, please see our Orders, Shipping & Returns policy.